The Boat:
The Address:
New Shiliu Pu (Xin Shiliu Pu)
531 East Zhongshan No. 2 Road
中山东二路531号,新十六浦
The Starting Time:
11:30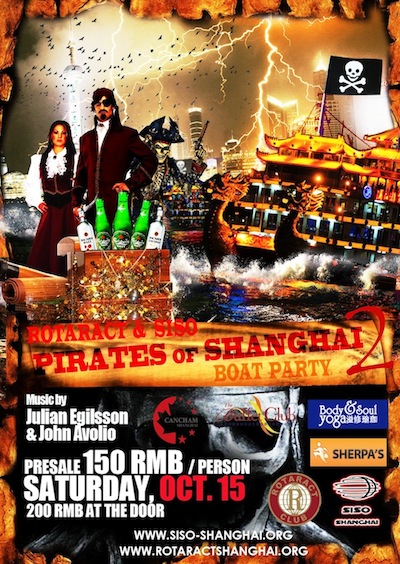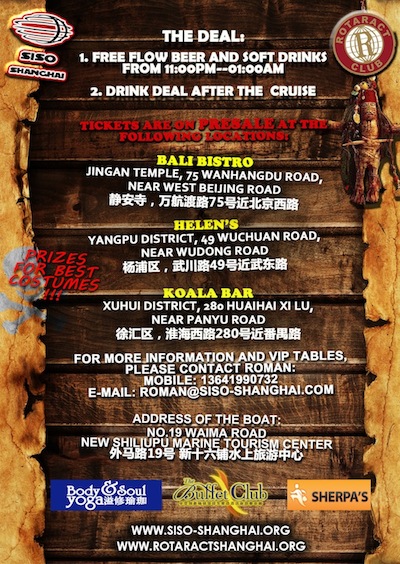 Attention! Attention! Pirates of Shanghai! The ONLY boat party on the Huangpu of the season
is fast approaching!
A sequel to last year's party, the Rotaract Club and SISO present:
PIRATES OF SHANGHAI 2! On October 15th, dress up and get on board.
DJ Julian Egilsson and John Avolio will rock your boat. Tickets are 150RMB in pre-sale,
200RMB at the door, which includes entrance and FREE FLOW beer, soft drinks.
Prices will also be awarded to the best costumes! Plus, profits go to charity.
Don't miss the hottest party of the FALL!
Buy your tickets now at any of our pre-sale locations.
Helens, Wuchuan road 49, near Wudong road
Bali Bistro, Wanghangdu road 75, near West Beijing road

Koala Bar, west Huaihai road 280, near Panyu road.
For group and VIP tables, please email ROMAN at   This e-mail address is being protected from spambots. You need JavaScript enabled to view it or call
13641990732.
Hurry up! Tickets are selling fast!
Address of the Boat: Captain Sailer No. 3 Boat on the Huangpu River
No. 531 East Zhong Shan No. 2 Road (new Shiliupu Marine Tourism Center)
(新十六浦旅游中心,中山东二路531号)
Who's Online
We have 1 guest online