Tuesday, 15 December 2009 09:07
Time to get back over to the WEST and celebrate Christmas cowboy style! Sharp' n sexy cowboy hats will be given to the first 100 people that arrive at PARAMOUNT on Saturday 19th. Wear it with pride!

Music wise we have a fantastic mix as RnB and funky hip hop shakes out before 12 and then the real music will start to rack the decks courtesy of Lorenz DJ team`s Lukas Abbing! House house house maximal!! Is the vibe you will be feeling from Paramount`s first class sound system! Be sure not to miss those sexy dance shows by paramount`s curvy cowgirls!

Take your guns and have a blast this Saturday 19th 10pm at paramount`s wild west Christmas! 

SISO Shanghai and Shanghai Fun Media present the biggest Paramount Party yet!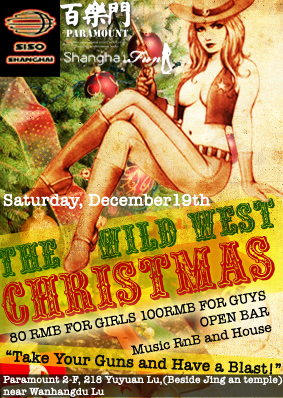 The SISO semester started with an earthquake in Paramount and will end there with a HUGE Party! Shanghai Fun and SISO together - the two most well known names in party organizing in Shanghai make sure you will have great time!